Mass Academy Ranked by Niche.com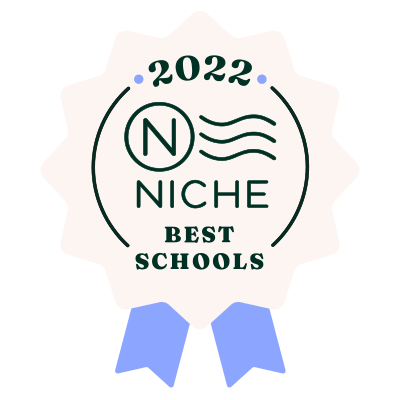 The Massachusetts Academy of Math and Science at WPI has been ranked the #1 Best Public High School in Massachusetts for the fifth consecutive year by Niche.com. Our National rankings include #3 Best Public High School in America (out of 19,984) and #1 Best Public High School Teachers in America (out of 19,722).
The 2022 Best Public High Schools ranking is based on rigorous analysis of key statistics and millions of reviews from students and parents using data from the U.S. Department of Education. Ranking factors include state test scores, college readiness, graduation rates, SAT/ACT scores, teacher quality, and high school ratings. Read more on how this ranking was calculated. To see the complete Mass Academy report card, click here.
National Merit Semifinalists/Commended Students 2022 PSAT/NMSQT
Congratulations to our National Merit Semifinalists and Commended Students in the 2022 PSAT/NMSQT Competition!
The nine Semifinalists, Shayaan Chaudhary (Shrewsbury), Andrew Lee (Northborough), Jay Nagpaul (South Grafton), Karthik Seetharaman (Shrewsbury), Alina Shkurikhina (Shrewsbury), Christopher Walsh (Hudson), Justin Wang (Northborough), Amy Wu (Shrewsbury), and Sophia Zhou (Harvard), along with the other semifinalists, have an opportunity to continue in the competition for some 7,500 National Merit Scholarships worth more than $30 million that will be offered next spring.
Our Commended students are Shravya Anisetti (Shrewsbury), Retna Arun (Shrewsbury), Ronit Avadhuta (Shrewsbury), Ramapriya Balagurunath (Southborough), Jon Cili (Blackstone), Kazuya Erdos (Maynard), Yiming Fang (Hopkinton), Sarah Fenton (Dudley), Ian Grzembski (Sturbridge), Rachel Haynes (Holliston), Sapphire Hu (Westborough), Harika Lingamarla (Shrewsbury), Shreya Majumdar (Lexington), Arnav Makad (Shrewsbury), Christopher Manxhari (Worcester), Cara Murphy (Hudson), Daiwik Pal(Franklin), Rutvik Parikh (Franklin), Aarush Patnala (Holliston), Katarzyna Racka (Holden), Karina Sargent (Auburn), Sahej Singh (Shrewsbury), Katy Stuparu (Westford), and Sriya Vuppala (Marlborough).
Congratulations to all!
AIME Qualifiers from the 2021-2022 AMC
Congratulations to all that competed in rounds A and B of the 2021-2022 American Math Competitions (AMC) Math Contests. Mass Academy had 35 students compete in the AMC12A on November 10, 2021 and 32 students compete in the AMC12B on November 16, 2021. In total, Mass Academy has 8 students moving on to the Invitational Contest, the American Invitational Mathematics Examination (AIME), held in February 2022.
The eight AIME Qualifiers are: Ronit Avadhuta, Simon Beyzerov, Andrew Lee, Shreya Majumdar, Krishna Purimetla, Karthik Seetharaman, Anush Shah, and Justin Wang
Great job to all and best of luck on the invitational exam.
CyberPatriot XIV
CyberPatriot is the National Youth Cyber Education Program created by the Air Force Association to inspire K-12 students toward careers in cybersecurity or other STEM disciplines. At the center of CyberPatriot is the National Youth Cyber Defense Competition. The competition puts teams of high school students in the position of newly hired IT professionals tasked with managing the network of a small company. In the rounds of competition, teams are given a set of virtual images that represent operating systems and are tasked with finding cybersecurity vulnerabilities within the images and hardening the system while maintaining critical services in a six hour period. Students need to utilize their knowledge of networking, switches, routers, firewalls, TCP/IP protocols and architecture, and administration of various operating systems. They have to determine whether there are unauthorized users getting into the network, whether their passwords are strong enough or whether the firewall has holes in it. For every problem they identify and fix, points are awarded; however, points are deducted if there is a disruption to required services.
This season, Mass Academy had 34 students compete in CyberPatriot XIV. In all, over 5,000 teams registered to compete. All teams excelled in the competition rounds, demonstrating teamwork, critical thinking skills, and technical knowledge key to a successful career in cybersecurity. We were very impressed with the determination and persistence that all students showed uncovering and fixing vulnerabilities. All teams did a great job working together and putting in their best efforts.
Please join me in congratulating the following teams who received MA State Awards and Tier Awards in their respective tiers:
2nd Place State Award – Platinum Tier – Team Red #14-1614 consisting of Kazuya Erdos, Jay Nagpaul, Daiwik Pal, Aarush Patnala, Sahej Singh, Krish Suraparaju
3rd Place State Award – Platinum Tier – Team Green #14-1617 consisting of Ronit Avadhuta, Jon Cili, Andrew Lee, Shreya Majumdar, Katy Stuparu, Ansh Tripathi
2nd Place Tier Award – Gold Tier – Team Orange #14-1615 consisting of Sreeja Bolla, Shayaan Chaudhary, Ian Grzembski, Erika Lam, Kiara Lavana
To see the results of all teams, click here.
To see the results of all State Awards, click here.
We hope you all had a great CyberPatriot season, and enjoyed working together learning more about Cybersecurity.
S.-T. Yau High School Science Award
Karthik Seetharaman, a senior at Massachusetts Academy of Math and Science at WPI, is part of the high school team that has been awarded the regional gold medal for mathematics at the S.-T. Yau High School Science competition. The S.-T. Yau High School Science Award is a high school research competition founded by Professor Shing-Tung Yau of Harvard University. The competition accepts papers in the categories of mathematics, biology, chemistry, physics, computer science, and economics.
Karthik and his teammates, William Yue of Phillips Academy Andover and Isaac Zhu of North Carolina School of Science and Mathematics, are part of the MIT PRIMES Research program. Their submission focused on the study of topology under the direction of Dr. Irving Dai of Stanford University, entitled Regularities in the Lattice Homology of Seifert Homology Spheres.
To reach this level, the team submitted a paper for judging by an advisory committee consisting of mathematics professors from Harvard University, Columbia University, and Stanford University, as well as Nobel Prize winners. The team's paper was one of seven selected for the regional (USA) finals, in which the team delivered a 30-minute defense of their paper at Brandeis University. Karthik's team tied for the regional gold medal for best paper in the USA and will represent the United States at the global finals in December 2021.
We are incredibly proud of the quality and depth of the mathematics presented by Karthik and his team. To have such a grasp of topological concepts, specifically those that are difficult to visualize, is genuinely impressive. It is an absolute pleasure to listen to Karthik share his knowledge and understanding of mathematics through presentations such as this or even informal discussions. Karthik serves as co-captain of the Mass Academy math team and programming team where he models for others how one can appreciate the beauty and joy that are found in mathematics.
Saint Anselm College – 14th Annual High School Programming Contest

Saint Anselm College hosted their annual High School Programming Competition virtually this year on Saturday, April 10, 2021. Teams of 2 students were given 5 competition-level problems to solve in 2 hours. Mass Academy had 18 students compete in the competition. In all, 84 students registered to compete. Teams worked together virtually finding creative programming solutions, and submitting their programs through an online process. Students demonstrated their creativity, programming skills, and collaboration.
Please join me in congratulating the following teams who received placement in the Saint Anselm High School Programming Contest:
First Place (solved 5 problems in shortest time) – Jay Nagpaul and Karthik Seetharaman
Second Place (solved 5 problems) – Andrew Lee and Rutvik Parikh
Third Place (solved 5 problems) – Shane Ferrante and Darshan Krishnaswamy, and Toyesh Jayaswal and Alexander Sun
For more information about the participants, competition problems, and placements please visit https://ypologist.com/mmalita17/contest/
We hope you all enjoyed the competition and wish you continued success in all of your current and future coding projects.
NCWIT 2021 AiC Award
Each year the National Center for Women & Information Technology (NCWIT) recognizes students who self-identify as women, genderqueer, or non-binary in grades 9 through 12 who are active and interested in computing and technology through their Aspirations in Computing (AiC) program. Awards for AiC recipients are selected based on their aptitude and aspirations in technology and computing, as demonstrated by their computing experience, computing-related activities, leadership experience, tenacity in the face of barriers to access, and plans for post-secondary education. Since 2007, more than 17,000 students have received an Award for AiC.
Please join me in congratulating our Mass Academy 2021 NCWIT AiC Award recipients:
Hazelyn Aroian received a 2021 National Honorable Mention Award.
Sreeanvitha Emani received a 2021 Massachusetts State Aspirations in Computing Award.
Ramapriya Balagurunath received a 2021 Massachusetts Affiliate Rising Star Award.
We are very proud of our young innovators and encourage all to pursue their passions in computing and technology!